Cape Sounio Fine Dining on the Attica Riviera
Epicurean Delight
We love food - it's that simple. And so is the philosophy behind the collection of unique restaurants at Cape Sounio. We spotlight the freshest flavours, the finest ingredients and the most talented chefs. So raise a glass of wine, gather around the festive table, holidays are a time to enjoy, explore and celebrate with those we love. Savour the chef's fusion of international and Greek cuisine at a selection of fine restaurants overlooking the Sounio Bay and the Temple of Poseidon.




Special Dining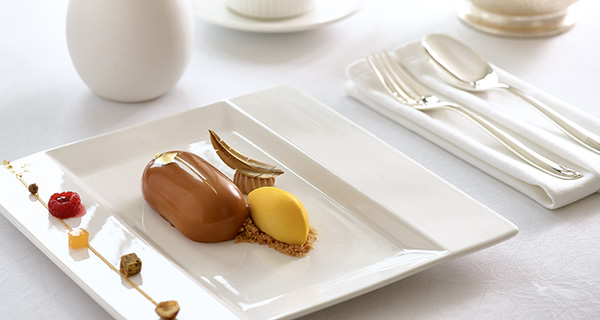 Create and customise your own Cape Sounio dining experience, prepared and served in a location of your choice. READ MORE>

Book Online
or Call +30 22920 69700
'Eat breakfast like a king'!
Grecotel is famous for its lavish breakfast spreads—proof that all guests are treated like royals. And the selection at the Cape Sounio is truly worthy of empire, a mouth-watering buffet laden with an array of fresh fruit in season, just-baked breads, cheeses, yogurts, and other dairy, breakfast meats, cereals and muesli, nuts, home-made marmalades, honey and more—mostly organic and locally-sourced. It is the ultimate breakfast buffet selection.
READ MORE
---
---
Dining at "The Restaurant"
Simply the best gourmet cuisine at Sounio! A gourmet restaurant with a unique view overlooking the wonderfully floodlit Temple of Poseidon at Sounio..
READ MORE
---
FREE KIDS DINING
Tasty Corner
From morning to evening, mini buffets offer a constant supply of fresh, tempting food and drinks exclusively for kids.
READ MORE
---
Our Executive Chef Sakis Tzanetos suggests:
"Enjoy a memorable sunset dinner on the beach, served by your own private waiter, including personalised menu planning, a secluded location and romantic décor".
---
Famous Class Free Dining
Famous Class guests can enjoy two complimentary a la carte dinners at selected restaurants.
---
Attentive Beach & Pool Service
Enjoy snacks, refreshing drinks and fresh fruit juices, whilst soaking up the sun or relaxing under the shade of your umbrella.
---