Ayurveda Express Treatments
SCALP MASSAGE 15΄ /25€
A gloriously relaxing yet invigorating experience. Let our therapist iron out the stress and strains of life as she massages the scalp - one of the main tension holding sites of the body with or without Ayurveda oils in the traditional Indian style.
NECK & SHOULDER MASSAGE 15΄ /25€
For many people, the neck and shoulders are common areas of soreness and tension. Working at a desk or a computer all day helps to create such problems. This massage with or without herbal oil relieves your tension build ups.
AYURVEDIC NECK & SHOULDER CARE 25΄ /50€
In this treatment fresh herbs are cooked in ayurvedic oils and packed into bags, which are applied over the neck and shoulder after hand massage. This relieves the spasm and stiffness of neck, shoulder and upper back muscles. This is very effective for cervical spondylosis.
LEGS & FEET MASSAGE 15΄ /25€
Our legs and feet frequently get ignored and small twinges and discomforts often go unheeded. Massage provides the means to ease these tensions and revitalize this weight-bearing part of the body. Feel the joy of pampering in the soles of your feet and the very tips of your fingers with exotic rituals.
AYURVEDIC LEG MASSAGE 25΄ /50€
In this treatment fresh herbs are cooked in ayurvedic oils and packed into bags, which are applied over the legs and feet after the traditional hand massage. This relieves spasm, stiffness, muscle cramps, sciatic pain, and knee & ankle pain. This massage improves lymphatic and blood circulation and effective on swollen feet.
Book Online
or Call +30 22920 69700
---
Open-air Elixir Spa Retreat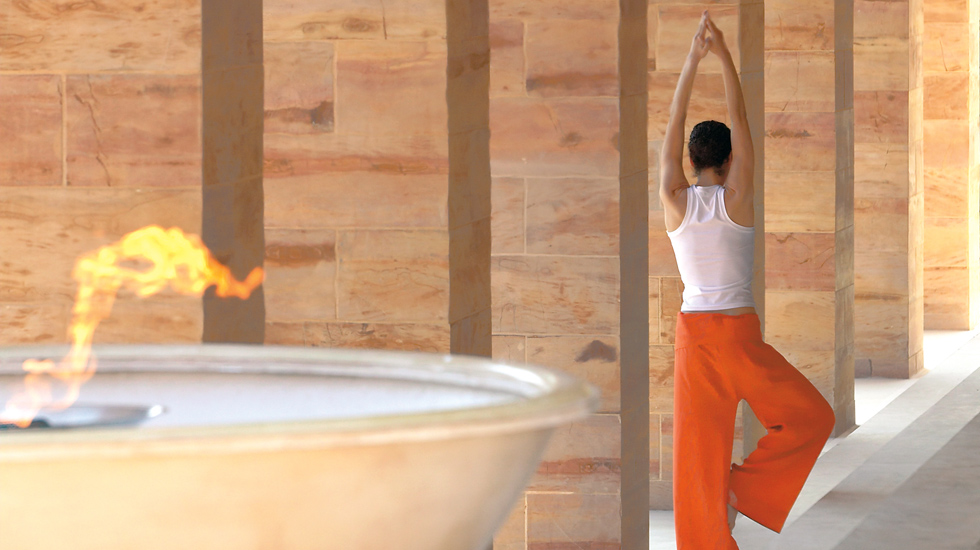 On the resort's most prominent location the Elixir Spa Retreat is a 350m2 complex in 5000m2 of landscaped gardens and forest with sea views to Poseidon's Temple. The Spa offers a range of natural therapies based on Greek herbs & flowers.
READ MORE
---
Must Try
• Elixir of Life 80'
Restoring body energy, balancing body aura, revitalizing & improving skin firmness.
READ MORE
• Love Potion 60'
An absolutely sensual ritual for two to tantalize and delight! Share an unforgettable experience with your partner.
READ MORE
---
Gazebo Open-air Massage
"Pamper yourself"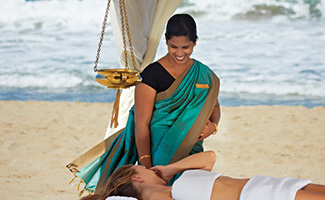 For the most indulgent experience, the Elixir Spa therapists can arrange a massage in a beach Gazebo under the Sounio sky. Or you can experience the healing power of Ayurveda in the privacy of your villa.
---
Face Treatments with caviar
It supports the regeneration of skin, prevents the early aging process (ANTI AGING) and solves problems like acne, couperose, sensitiveness and allergic skin as well as neurodermatitis/psoriasis.
VIEW TREATMENTS
---